Running an online shop  business involves sending many packages a day. It is therefore necessary not only to handle the orders efficiently, but also to choose the right packing materials for the parcels. There are many options, so it is important to know the criteria that should guide your choice.
Type of products shipped
A key factor to consider when choosing parcel packaging materials is the type of products which are being shipped. This will not only influence the choice of outer packaging (cardboard boxes, foil packs, bubble envelopes), but also other parcel packaging accessories that will help protect the products inside the package.
Fragile products, which can be easily damaged during transport, require much more attention when packing and especially when you need to secure the shipments. These certainly include all kinds of glass and ceramic kitchenware or furnishing items such as lamps, vases, glass-topped tables, and many more. When packing these types of goods, special materials are needed to protect them from mechanical damage and shocks. It is also necessary to secure the inside of the parcel properly, so that the products inside are protected from damage which is caused by movement within the parcel, preventing them from damaging each other.
When packing parcels with such delicate contents, all kinds of fillers, as well as air mats and air pillows are seen as useful. Other parcel fillers, which we described in the article, can also be helpful for this purpose: Parcel fillers – an overview of possibilites.
Volume of products to be shipped
The size of the products to be shipped is also important when choosing packing accessories. Bulky goods, such as furniture or large white goods, usually come with protective packaging from the factory. As a result, their packing in the online shop is kept to a minimum and often stretch film is used to wrap the consignment from the outside and this is sufficient. There is therefore no need for different sized cardboard boxes or any fillers or other parcel packing accessories.
Packing accessories – easy to use
When choosing materials and accessories for parcel packing, the easiness usage must also be considered. The efficient packing of parcels has a great impact on the speed of order fulfilment and, consequently, customer satisfaction with the quality of service in a given shop. With this in mind, it is advisable to choose packing materials that are simple, quick and convenient to use. It is a good idea for packaging materials to be easily applied by means of special dispensers, enabling, for example, the packing tape to be conveniently cut off at the desired point or equipped with perforations to facilitate tearing off the correct amount of items needed for a given parcel.
Packaging materials – costs
When choosing packing materials, the costs involved must also be taken into account. However, it is worth remembering to compare different solutions not only in terms of their unit prices. After all, it is important to bear in mind that the choice of packing accessories also affects the size and weight of the parcel and, consequently, the shipping costs. The total costs can therefore only be compared by adding up the costs for the purchase of parcel packing materials and the shipping costs.
When looking for optimal solutions, it is therefore advisable to look for lightweight solutions that will not be an additional burden to shipments, while still providing an adequate degree of protection for the products inside.
Our employee Tomasz Garbaczewski, a machine and device designer, carried out his own research to see what differences there were in the weight of a shipment depending on the filling used. To compare he used a cardboard box, which he filled with cut cardboard, paper and APS air fillers. He weighed the cardboard box each time. The results obtained by the constructor are shown in the table below.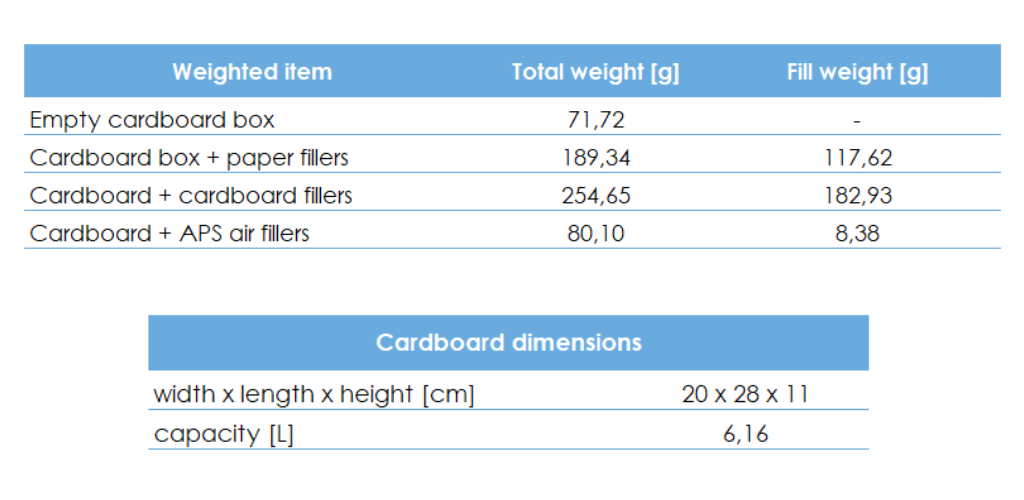 As you can see, the differences in the weight are enormous! Paper fillers weigh 14 times more and cardboard fillers almost 22 times more than APS air fillers. Taking a look at the above comparison, air fillers definitely win and can really make a significant difference to the cost of parcels.
Other factors influencing the choice of materials for parcel packing
In addition to the above-mentioned key factors when it comes to the selection of packing accessories, there are also less important issues which may nevertheless influence the final choice. In shops where environmental concerns are important, whether the materials used when packing the parcel can be reused and recycled will certainly be of considerable importance. For many, the aesthetics of the materials used will also be important because, as we have written in one of our blogs before: Preparing packages for shipment – an important element of an online shop's image.
As you can see, a number of different criteria have to be taken into account when wanting to select the best packaging materials, and it is impossible to just simply make an easy choice and indicate the best set of packing accessories for all online shops. However, it is undoubtedly possible, based on the criteria given above, to identify the best packing materials for a particular shop and the best suited to the product range being sold.