When looking for the best way to fill empty spaces in packages and to be able to secure the products which are being shipped, you can come across a variety of solutions. You can choose from paper fillers, wood wool, skropak or air cushions (you can read more about them in the article: Parcel fillers an overview of possibilities). Each of these solutions has its pros and cons, and today we will look at the advantages of using air pillows.
Box fillers – durable and lightweight
Air parcel fillers seem as fragile, but in fact they have high cushioning properties and are difficult to damage. They are made of different types of film, such as polyethylene or biodegradable film, which is sealed into special 'pouches'. When inflated with air – the pouches turn into air cushions. Tests have shown that the STANDARD Air plus pillow can withstand a short-term (10s) load of 13kg and a long-term load of 8kg over three days. After three days under load, the Air Protect System cushions still remain 80% inflated. However BIO Air pillows, made from biodegradable film, can withstand a short-term load of 6kg and a long-term load of 5kg. Thanks to this durability, the air cushions are ideal both for protecting the items inside the parcels from damage and for filling empty spaces in the box. This ensures that the items inside the parcel do not get damaged in transportation. Pillows with air are light as a feather, so they do not weigh down parcels and therefore do not increase transport costs. They are flexible, so you can easily stabilise an item in a parcel with them.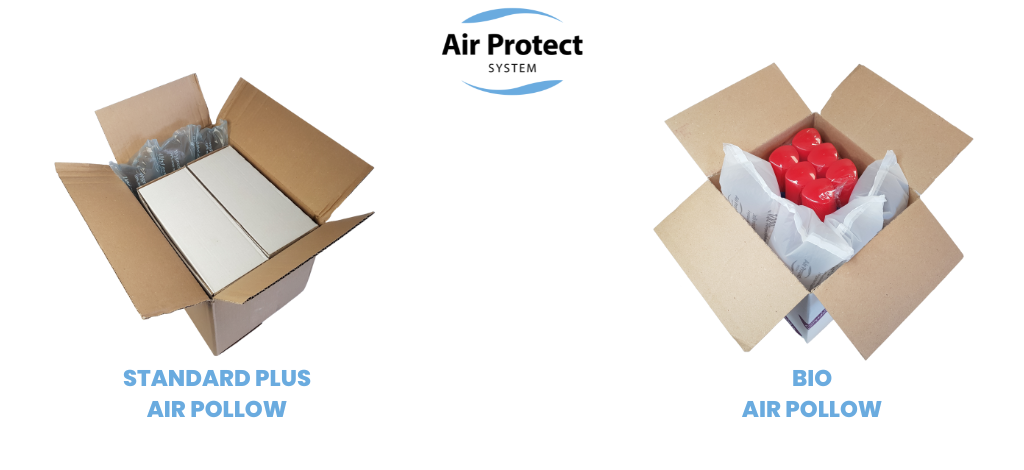 Air fillers – easy to use and store
What is also noteworthy is the fact that the air pillows are easy to use, as the film has perforations every few centimetres. This makes it easy to divide it into shorter sections. With just one movement, the appropriate number of airbags can be torn off during packaging and used to fill the space in the parcel. Thanks to the flexibility, air cushions are ideal for shops where items of different sizes are sold and at one time two bags of air are sufficient for packing, while at other times a much larger number is required.
Owners of small storage spaces will be pleased to know that the pouch rolls are very easy to store. They are stored unfilled without air. One roll contains more than 4,000 pouches and takes up only as much space as 2 0.5-litre bottles of water. For this reason, storage space for parcel fillers can be kept at a minimum, thus increasing the stock of the products themselves.
Filling the cushions with air requires the use of APS 20 device, which allows 18m of finished air cushions to be inflated in one minute. Work at the packing station can thus proceed quickly and efficiently allowing to save time and money.
Air pillows – allow for high aesthetics and are environmentally friendly
Air pillows are products characterised by a high level of aesthetics. Thier usage helps to build a company's image, and the fact that are multipurpose allows them to be used in any online shop, regardless of the product range being sold.
Air cushions are remarkable due to the fact that they can be reused and recycled. This is because, as a filler, they can be used repeatedly without losing their properties and resistance to mechanical damage, including any impact during transportation. There are direct benefits coming from this type of solution as well, because customers can use the air pillows to return the purchased items back to the store, then the shop can reuse them again while maintaining the aesthetical aspect of the pilliows. Customers can also reuse them to pack thier own parcels. Used air pillows, on the other hand, are recyclable once the air has been removed from them. The prerequisite is that they are disposed of in an appropriately labelled waste bin, which guarantees that they will be used to produce new air pillows. This is how, a shop that uses air cushions contributions to improving our environment and eco-friendly.
As you can see, there ar emany advantages of using air pillows and they can be used regardless of the contents of the package. It is therefore hardly surprising that air filled pillows are becoming a more and more attractive solution for online shops and they are reverting to them as a packing solution more and more often.