How did we make it happen that everything from mirrors to glasses, metal armchairs to large-sized sofas reaches Homla's customers intact while also improving the image of this online store? The answer is simple: Homla started using our Air Protect System air fillings.
How did it all start? From a simple post on LinkedIn that reached Mr. Michał Giebel – Logistics Director at Homla Sp. z o.o. We received an inquiry, sent our offer and the trial period began, after its completion we switched to permanent cooperation.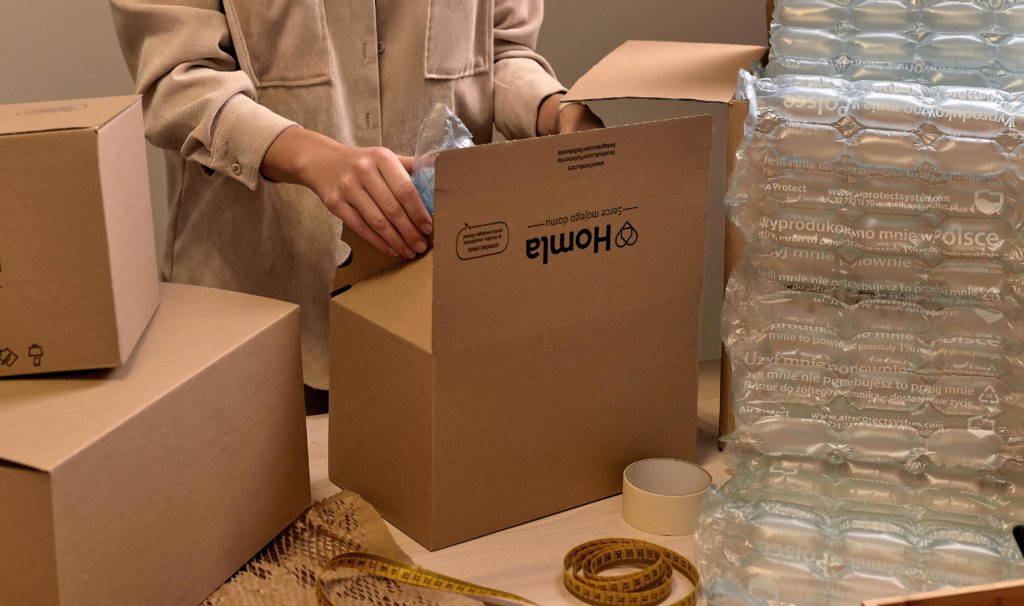 How did Homla secure goods for shipment before using APS?
Store employees used bubble wrap and cardboard shavings for packaging. These solutions worked well but were not aesthetically appealing enough and took up a lot of storage space. On top of that, after opening their packages Homla's customers had a lot of trouble with the disposal of a large amount of packaging filling that poured out of the rubbish bins.
Why was the decision taken to change the way of securing parcels?
Homla wanted to protect its unique furniture and decorations in an equally unique way. The company was looking for a way to improve the aesthetics of the parcels sent while at the same time looking for a solution that would improve the work of people packing the parcels. The two-week period of testing air mats and their production equipment began. After the trial period Mr. Michał Giebel decided that in the online store offering articles from the interior design items the Standard Plus air mats by Air Protect System will perform better than the existing package fillers which were being used. 'They are easy to prepare for use and do not take up as much space in the warehouse as the solutions used so far' – emphasizes Mr. Giebel. This is how Homla replaced the bubble wrap and cardboard boxes with our air fillers.
What has Homla gained by using APS air protection?
It turned out that the prices of APS brand fillers are comparable to those previously used by Homla. However, by changing cardboard fillings to air mats the brand has gained a lot in the eyes of their customers. When unpacking the parcel the users were very impressed with the aesthetics with which their parcel was packed. They expressed it in comments on transport on the store's website. Customers liked the fact that the film mats do not leave mess on the floor when shipments are unpacked, unlike cardboard shavings which leave a lot of dust. In addition, it turned out that thanks to the imprints on the film consumers know exactly which waste bin can they should go in and if there is a need to reuse them – e.g. due to return – they can be safely reused, because they do not lose their properties.
Are APS mats recyclable?
Thanks to our efforts the ECO version of APS air fillers is made of 100% recycled material and the BIO version is made of 100% plant material. We are proud to say that all our mats are recyclable and the BIO variant is biodegradable. Equally important to mention – ECO fillings have a lower carbon footprint than alternative cardboard fillings.
Eco-friendly solutions and aesthetics of our mats are the aspects that made APS work very well in the Homla warehouse. Furthermore, customer reports confirming that the used film can be easily punctured and deflated (which means that it takes up little space in waste containers) only confirmed the store's belief that they chose the right form of securing their shipments.
By choosing Air Protect System air fillings, just as Homla did, we can look after our planet together!